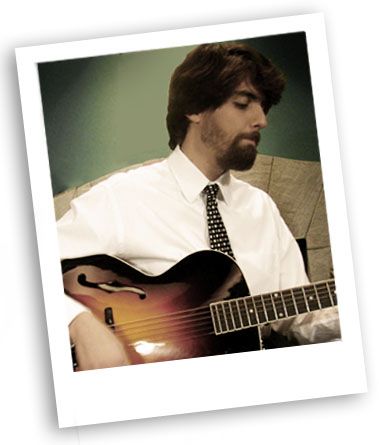 Alex Belhaj is a guitarist based in Ann Arbor, Michigan, where he leads his own Crescent City Quartet and Quintet in addition to playing folk music and original music.  He also worked with the James Dapogny Quartet, Paul Klinger's Easy Street Jazz Band, the Cakewalkin' Jass Band and guitarist Joe Summers before moving to New Orleans in 2015.
From 2015-2020, Alex lived in the Crescent City, where he worked with Duke Heitger, Steve Pistorius, Tim Laughlin, Dr. Michael White, the Riverside Jazz Collective, Hal Smith's On The Levee Jazz Band, Benny Amon's New Orleans Pearls and Shotgun Jazz Band among many other great musicians and ensembles.  Alex is an outstanding interpreter of vintage Jazz guitar stylists like Johnny St. Cyr and Kid Ory's longtime sideman Bud Scott.
Previous events
Banjo and organ fundraising concert for the Detroit Masonic Temple Organ Restoration with Aaron Jonah Lewis (banjo) Stephen Warner (organ) Abby Alwin (cello) and Alex Belhaj (guitar) taking place November 12 at Detroit's Masonic Temple Complex, which contains within it many performances spaces and no less than three pipe organs. Our concert will take place at the Masonic Temple's Cathedral Theater. All proceeds from this event will go directly toward the ongoing restoration of the rare and historic Skinner Organ Company Opus 529, which Stephen will play for the concert.
$35