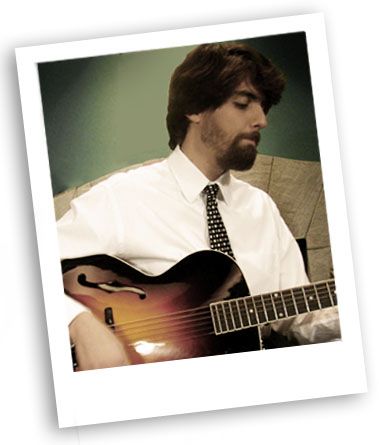 Alex Belhaj is a guitarist based in Ann Arbor, Michigan, where he leads his own Crescent City Quartet and Quintet in addition to playing folk music and original music.  He also worked with the James Dapogny Quartet, Paul Klinger's Easy Street Jazz Band, the Cakewalkin' Jass Band and guitarist Joe Summers before moving to New Orleans in 2015.
From 2015-2020, Alex lived in the Crescent City, where he worked with Duke Heitger, Steve Pistorius, Tim Laughlin, Dr. Michael White, the Riverside Jazz Collective, Hal Smith's On The Levee Jazz Band, Benny Amon's New Orleans Pearls and Shotgun Jazz Band among many other great musicians and ensembles.  Alex is an outstanding interpreter of vintage Jazz guitar stylists like Johnny St. Cyr and Kid Ory's longtime sideman Bud Scott.
ISOBEL & ERNEST PRESENTS: LIVE AT THE CLOVER ROOM Hearth & Hymn, Alex Belhaj & Erik McIntyre Sunday, December 18th The Clover Room 1501 Fulford St, Kalamazoo, MI Doors: 3:30 pm Show: 4:00 pm
There's a new listening venue in Kalamazoo called The Clover Room, right next to La Luna! Our venue only seats 55, so purchasing a ticket in advance is encouraged. Tickets are $15-25. VIP reserved seating on the couches $35.00 (6 available). Donations will be accepted for refreshments.
Hearth & Hymn Hearth & Hymn is a close harmony, minimalist folk project produced by songwriters, song collectors and multi-instrumentalists Samantha Cooper and Elisabeth Pixley-Fink. Beloved artists in the Michigan folk scene, their masterful harmonies and seamless vocal blend capture a room. Raiding family songbooks and sharing old tunes, Hearth & Hymn reimagines songs that move them through a queer, feminist lens. The pair grew up immersed in "kitchen music" traditions, and have been performing together for over a decade. Their current project is Lullaby Bangers, released through Earthwork Music.
Alex Belhaj & Erik McIntyre Alex Belhaj and Erik McIntyre play intimate acoustic music on vintage guitars with swinging rhythm, sweet and haunting melodies, and an interweaving of joy and sorrow through improvisational conversations inspired by Blues, Jazz, and a plethora of early 20th century recordings. Their music is dynamic and never the same twice. Gentle voices searching for home.
$15 - $35